Free UK Delivery Over £99
International Delivery to 50 Countries


Sizing Guide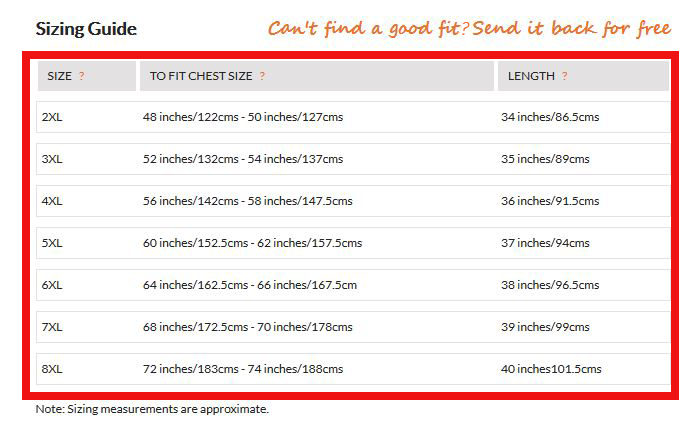 Find Our Sizing Guides
On most product pages, just below the main product image, there will be a size guide specifically for that product. Once you have measured yourself and know your waist or chest measurement, take a look at the guide and match it up to find out what XL size you are.
Remember! Our sizing guides accommodate for a comfortable fit and don't refer to the size of the garment itself, but your size. Because of this, if you are a 56-inch chest, choose this size – The garment will fit!
Don't Forget! Different brands have different size guidelines; what's a 3XL in one brand, isn't necessarily a 3XL in another, so double check the size guide.
Did You Know? We offer free UK returns! If something doesn't fit, simply send it back – the cost's on us.
In between sizes? We would always recommend sizing up to ensure the garment fits or if you're in the UK, order both! We offer free UK returns, so simply send back the one that doesn't fit – Easy.
Measure your neck at the point where you need to fasten the top button of a shirt. For a comfortable fit, make sure to place a finger between the tape measure – it shouldn't be restrictive in any way.
When measuring your chest, place the tape around the fullest part, across your nipples, under your armpits and over your shoulder blades.
For your waist, measure where you would wear your trousers and place the tape around where your belt would sit.