A Closer Look at... Big Men's Clothing Catalogues
At Big Dude Clothing, we are a online retailer, we keep costs low and hopefully save our customers money off the high street price. We often find customers enquiring about printed mail order catalogues of our products, in fact; it may be our most common customer request. In this blog post, we take a deeper look at the pros and cons of catalogues, along with some current industry examples.
Why don't Big Dude Clothing do a catalogue?
There are a few reasons why we currently do not produce a physical catalogue, with the main reason being cost. Producing a high quality catalogue is expensive, which is why generally only very large companies have them printed. Also, in online retailing, things move very quickly. Stock is constantly coming in and out, prices change and special offers are often applied, meaning that any items or prices listed in a printed catalogue may quickly become dated – which can be frustrating for customers. Our prices are kept as low as possible and producing catalogues would only add to our costs and push up prices.
What alternatives do Big Dude Clothing offer?
Take a look at our online shop, we can deliver worldwide and off free returns service.We prefer to focus our marketing efforts online and take pride in informing customers of new products, special offers and discounts through our weekly email newsletters. These newsletters provide an up-to-date reflection and representation of our products and offers and aim to reward our loyal customers. We are also very active across all major social networks (such as Google+, Twitter and Facebook) and regularly update these channels with information on new product arrivals, as well as being a great way of interacting with our customers and providing exclusive discounts. We also welcome and encourage customers to call or email us with any queries, requests or feedback, which we use to improve our service and make sure we are meeting your needs.
What plus size men's companies currently produce catalogues?
We have looked at 10 other well-known big men's clothing retailers (Jacamo, Big Fish Clothing, Big Clobber, John Banks, High & Mighty, Chatleys, Big Tall Order, Big Tee Shirt, David Jake and Premier Man) and out of the selection, only 4 of these companies currently produce a printed catalogue. These companies are Premier Man, High & Mighty, John Banks and Jacamo. Take a look below at a sample of what these catalogues look like:
Premier Man: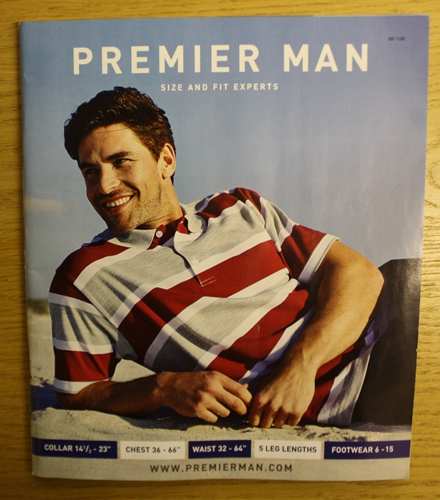 A basic front cover, however, it is clear that this is a Summer themed catalogue.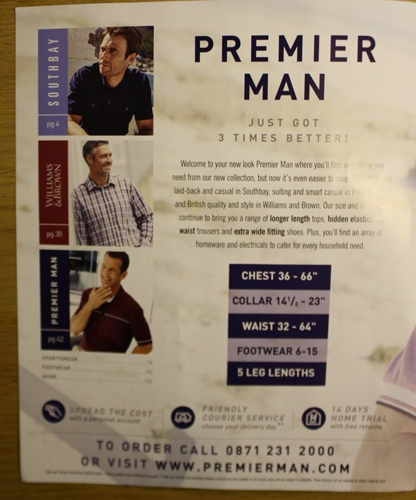 As you can see from this image, Premier Man's range of clothing goes up to a 66″ chest (whereas we stock up to a 74″ chest), a 64″ waist (Big Dude Clothing stocks up to 70″) and where the footwear sizes end at 15 at Premier Man, we stock up to a size 17.
In this image, you can see that Premier Man also stocks unisex options, where we prefer to focus uniquely on outsized menswear.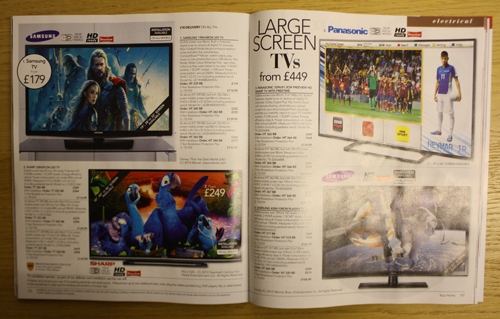 Premier Man also sell a range of electronics, including a selection of television sets as seen in this image. Again, at Big Dude Clothing, our passion is concentrated solely on providing the biggest and best selection of plus-sized men's clothing.
---
High & Mighty: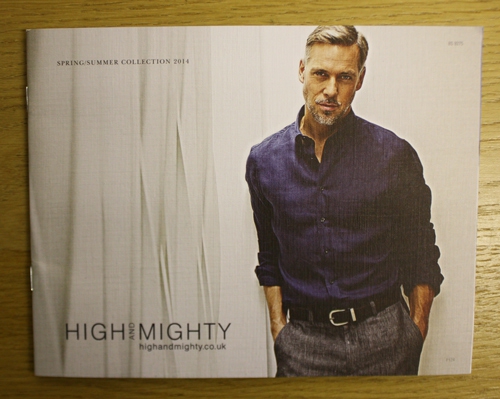 This catalogue has a sleek and smart front cover and gives off the company's image of premium menswear.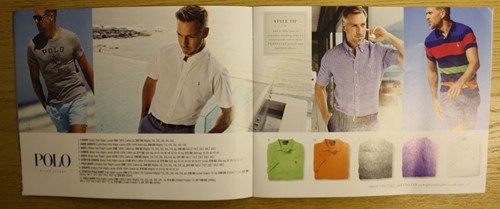 The layout is consistent throughout the catalogue, with large images limiting the number of items featured.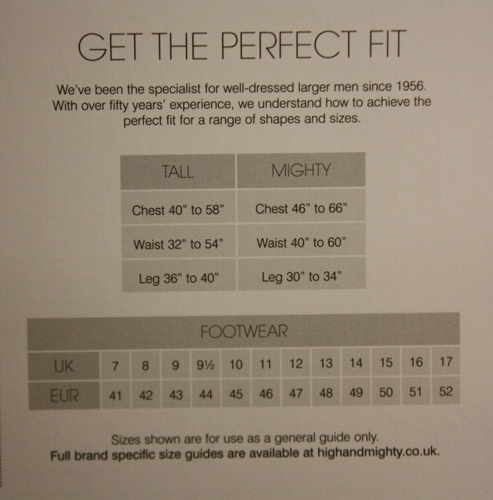 The featured size guide in the catalogue is very basic and does not go into any specific details, presumably due to space restraints. We pride ourselves on providing in-depth, brand specific size guides on all of our product pages.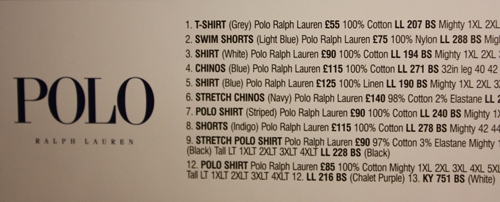 As you can see from the above image, High & Mighty are primarily known for their premium, expensive brands such as the pictured Ralph Lauren Polo range. At Big Dude Clothing, we ensure we have many options available for all budgets.
---
John Banks: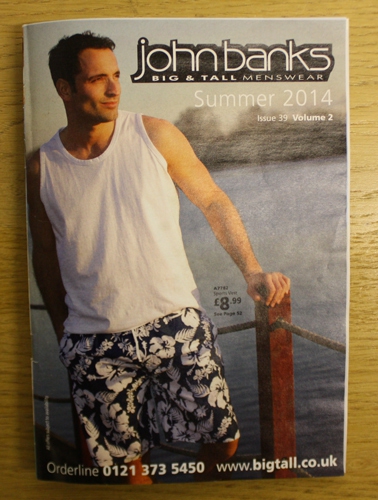 The John Banks Summer 2014 catalogue features a generic looking cover but again, clearly shows what to expect inside.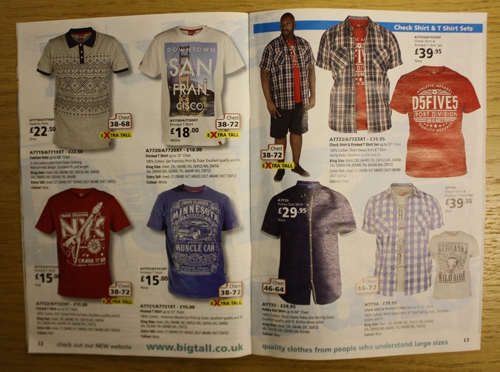 The layout of this catalogue is more product focused, letting the items speak for themselves. Although this is a good representation of stock, we prefer to have a plus-sized model pose in all of our stocked products, as we believe our customers prefer to see how a garment looks on a fellow big guy.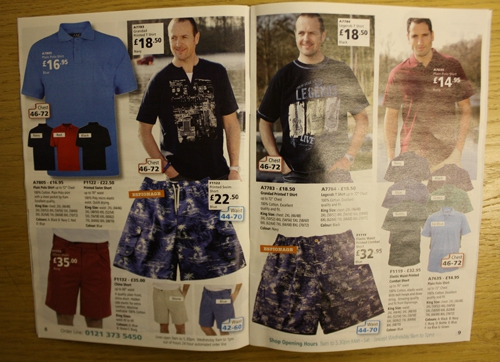 In this image, we see more products worn by a model, however, clearly not plus-sized. All of our modelled clothing is strictly posed in at least a 3XL, giving a true representation of how the item will look on a plus-sized male.
---
Jacamo: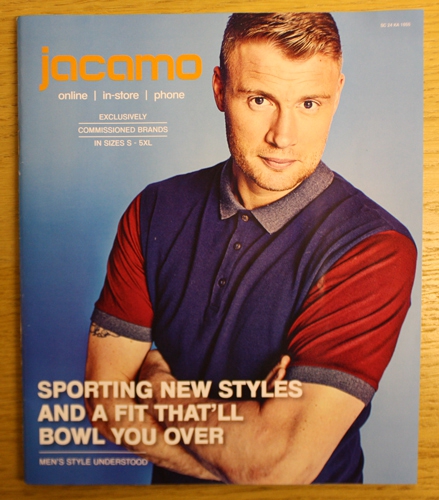 Former England cricket player Freddie Flintoff is the centre of attention at Jacamo and graces the front cover of the lastest catalogue.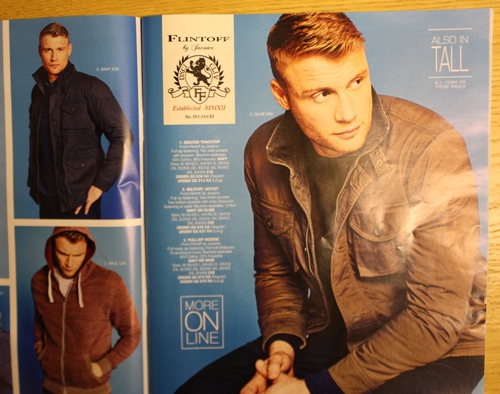 As seen in the above image, Freddie Flintoff is again the focal point inside of the catalogue. The Flintoff by Jacamo clothing collection is given maximum exposure at the very beginning of the catalogue.
Big Dude Clothing is an impartial menswear retailer, meaning we show all brands the same love and attention!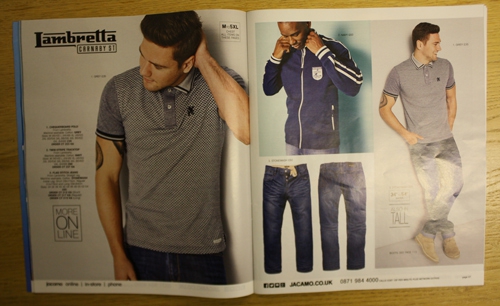 In this final image, you can see the Jacamo catalogue following what appears to be the industry standard practise of large images with limited products shown.
In summary, a major drawback of producing a similar catalogue would be restricting the exposure of the range and selection of plus-sized mens clothing that we offer at Big Dude Clothing.