Sizing Guide
This page should help you to choose the correct size. We have size charts for each of the brands we stock.
We are happy to help with sizes, we will measure any garment for you, email us on info@bigdudeclothing.co.uk and we will email you back the measurements.
The size charts are approximate and are for guidance only. Plese check your size carefully as there are differences in sizing between manufacturers.
Introducing Joe - Our New Model
We think clothes look better on people, therefore we have started to use Joe (our new model) for a product images. When Joe is in one our product images we will tell you what size he is wearing, you can use this to help with sizing.
Here are Joe's vital statistics:
Height: 5' 8"
Chest Size: 50" Chest Size
Waist Size: 42" (Short leg)
Favourite Brand: Ben Sherman (wears 2XL and 3XL)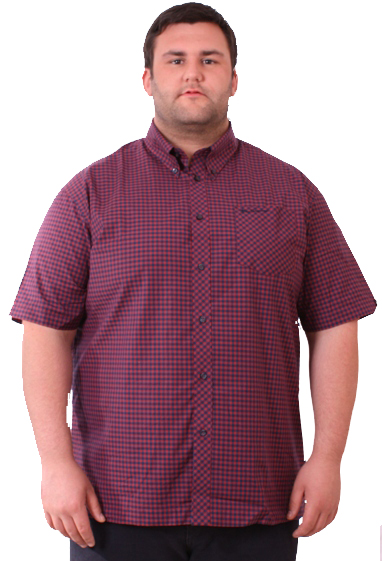 Sometimes specific sizes are stated on a product page, if so, follow those sizes. Click on a brand below and you will be taken to the size chart for that specific brand.
Duke, D555, SplitStar, Rockford Size Measurements
Absolute Apparel Size Measurements
If the brand is not above then please refer to the generic sizing guide - click here
Ben Sherman - Chest Size Guide
| | | |
| --- | --- | --- |
| Size | Inches | Back Length |
| 2XL | 50-52" | 34" |
| 3XL | 54-56" | 35" |
| 4XL | 58-60" | 36" |
| 5XL | 62-64" | 37" |
Nickelson - Chest Size Guide
| | | |
| --- | --- | --- |
| Size | Inches | Back Length |
| 2XL | 50-52" | 34" |
| 3XL | 54-56" | 35" |
| 4XL | 58-60" | 36" |
| 5XL | 62-64" | 37" |
KAM - Chest Size Guide
| | |
| --- | --- |
| Size | Inches |
| 2XL | 50-52" |
| 3XL | 54-56" |
| 4XL | 58-60" |
| 5XL | 62-64" |
| 6XL | 66-68" |
| 7XL | 70-72" |
| 8XL | 74-76" |
Duke, D555, SplitStar, Rockford Clothing - Chest Size Guide
| | |
| --- | --- |
| Size | Inches |
| 2XL | 50-52" |
| 3XL | 53-55" |
| 4XL | 56-58" |
| 5XL | 59-61" |
| 6XL | 62-64" |
Rael Brook - Collar & Chest Size Guide
| | |
| --- | --- |
| Size | Chest Inches |
| 19.5" Collar | 57" |
| 20" Collar | 59" |
| 21" Collar | 63" |
| 22" Collar | 67" |
| 23" Collar | 71" |
Espionage Clothing - Chest Size Guide
| | |
| --- | --- |
| Size | Inches |
| 2XL | 46-48" |
| 3XL | 50-52" |
| 4XL | 54-56" |
| 5XL | 58-60" |
| 6XL | 62-64" |
| 7XL | 66-68" |
Raging Bull - Chest Size Guide
| | |
| --- | --- |
| Size | Inches |
| 2XL | 51-53" |
| 3XL | 55-60" |
| 4XL | 61-63" |
| 5XL | 64-67" |
| 6XL | 71-74" |
FUBU - Chest Size Guide
| | |
| --- | --- |
| Size | Inches |
| 2XL | 52-54" |
| 3XL | 56-58" |
| 4XL | 60-62" |
| 5XL | 64-66" |
| 6XL | 68-70" |
Absolute Apparel - Chest Size Guide
| | |
| --- | --- |
| Size | Inches |
| 2XL | 47-49" |
| 3XL | 51-53" |
| 4XL | 55-58" |
| 5XL | 60-63" |
| 6XL | 65-68" |
| 7XL | 70-72" |
Double Two - Collar & Chest Size Guide
| | |
| --- | --- |
| Size | Chest Inches |
| 19" Collar | 56" |
| 19.5" Collar | 58" |
| 20" Collar | 60" |
| 21" Collar | 62" |
| 22" Collar | 64" |
| 23" Collar | 66" |
Generic Chest Size Guide
| | | |
| --- | --- | --- |
| Size | Inches | Collar |
| 2XL | 46" - 48" | 18.5" |
| 3XL | 50" - 52" | 19.5" |
| 4XL | 54" - 56" | 20.5" |
| 5XL | 58" - 60" | 21.5" |
| 6XL | 62" - 64" | 22.5" |
| 7XL | 66" - 68" | 23.5" |
| 8XL | 70" - 72" | 24.5" |


Generic Waist Size Guide
| | |
| --- | --- |
| Size | Inches |
| 2XL | 44"-46" |
| 3XL | 48"-50" |
| 4XL | 52"-54" |
| 5XL | 56"-58" |
| 6XL | 60"-62" |
| 7XL | 64"-66" |
Generic Leg Length Guide (Inches)
| | |
| --- | --- |
| Leg Length | Height |
| Short (S) - 29"/30" | 5'3" - 5'7" |
| Regular (R) - 31"/32" | 5'8" - 6'2" |
| Long (L) - 33"/34" | 6'3" - 6'6" |
| X-Long (XL) 38" | 6'5" |